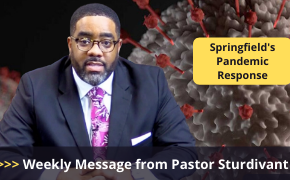 roadside cleanup, office assistant position, diversity marketplace, class of 2021, men's fellowship, congregational survey
Hi Springfield,
I hope you're having a tremendous Thursday! Do you know who you are? According to scripture you are more than a conqueror through him who loved us. (Romans 8:37) The Apostle Paul reminds us that whether we are in hardship or persecution; whether we are enduring famine or peril or sword, we are more than conquerors. Not only can we have the victory, but we will have the victory in Jesus' name! That's who you are! You are more than a conqueror!
There are many exciting things happening at our church that I want to share with you today.
ROADSIDE CLEANUP
This Saturday at 9am we'll have another roadside cleanup opportunity. If you want to help keep our portion of Auburn-Knightdale road pristine, please be a part of the cleanup crew. Thanks to all who help with this continuing effort.
BREAKING NEWS --- OFFICE ASSISTANT POSITION
Springfield Baptist Church is hiring. We are looking for a qualified applicant to fill our open office assistant position. Check our website for the application and more details about the position. This is a position we were trying to fill last year when the pandemic hit. If you applied last year and are still interested, we need you to reapply with current information.
DIVERSITY MARKETPLACE
On Saturday, May 22nd the Diversity Marketplace is hosting an Entrepreneur Expo Zoom event. This event is to promote young black businesses and their owners to showcase some of their products and services. This is a good way to support minority small businesses. Make plans to attend. Zoom details to follow.
CLASS OF 2021
CONGRATULATIONS GRADUATES!!! If you are graduating from high school or college, we want to know about it. The scholarship ministry needs your name and the name of the school you are graduating from by Sunday, June 6th. Please send the information to .
MEN'S FELLOWSHIP
Our Men's Ministry is on the move. As we approach Men's weekend, June 5-6, our men want to make sure the brothers are spiritually and physically fit. They're sponsoring a men's health and wellness challenge. To participate in the challenge please contact Deacon Robert Perry or Brother Dennis Dawson or send an email to And don't forget about Men's Fellowship each Monday night on Zoom.
CONGREGATIONAL SURVEY
Thank you so much for responding to the congregational survey. Nearly 400 of you took time to fill out the survey. This information will be very useful for our reopening plans. Stay tuned for more information about our reopening.
That's all for now. As usual, KEEP THE FAITH, STAY SAFE, WEAR, WASH & WAIT!
Pastor