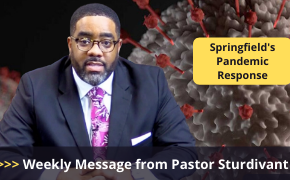 corporate fast, father's day pictures, virtual vbs, vbs materials
Hi Springfield,
I want to encourage someone today. I'll do it, the only way I know how – with the Word of God. 2 Corinthians 4:17 is a powerful verse. It reads, "For this light momentary affliction is preparing for us an eternal weight of glory beyond all comparison." (ESV) Regardless of what you are going through today, remember that it is a light momentary affliction. No matter how long you've been dealing with it, it is a light momentary affliction. One writer says here, "weighed on a scale, any suffering in this life is far outweighed by the glory of the life to come." I hope this encourages you to know that the words of the old song are true … I'm so glad trouble don't last always.
Here are some exciting things happening at the Springfield Baptist Church.
CORPORATE FAST
Monday, June 14th through Friday, June 18th our church will be fasting. This past Tuesday during Bible Study, I announced our corporate fast and gave more details about the fast and our prayer focus for next week. If you did not tune in on Tuesday, visit our church website under online documents for fasting instructions & prayer themes. Or you can watch Tuesday night's session on our Springfield Baptist Church YouTube page. As part of the fast, we'll also have 6:30am prayer Monday through Friday of next week. And we'll have an outdoor prayer event on Wednesday, June 16th at 7pm. I'm excited about how prayer will lead the way for our reopening.
FATHER'S DAY
Our Mother's Day picture collage was such a beautiful and moving tribute that we want to give our fathers the same opportunity as we prepare for Father's Day on Sunday, June 20th. To help us celebrate fathers please send a picture of you and your father or you and your children to . All pictures must be submitted by June 15th.
VIRTUAL VBS & VBS MATERIALS
Virtual VBS is coming so mark your calendars now for Thursday, June 24th through Saturday, June 26th. Though the classes will be virtual, your first opportunity to receive VBS material will be during this coming Wednesday's outdoor prayer event. Please make plans to pick up the material so you can prepare for our Thursday and Friday classes which will be on Zoom. The Zoom link will be published on our website and in a future email blast. On Saturday, June 26th we'll have a parking lot picnic to culminate our time together. We're looking forward to a great time of faith and fellowship.
Blessings to all. As usual, KEEP THE FAITH, STAY SAFE, WEAR, WASH & WAIT.