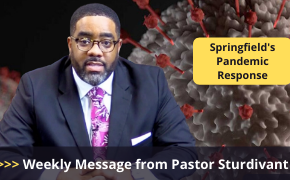 sunday school book distribution, men's weekend, class of 2021, office assistant position
Hi Springfield,
"Jesus be a fence all around me every day,
Jesus, I want you to protect me as I travel along the way,
I know you can, I know you will, fight my battles, if I just keep still,
Lord, be a fence all around me every day."
These are the words of an old song that we used in the children's choir at the church where I grew up. All these years later I still remember that song and those words. What was a children's song in my youth has become a regular prayer in my adulthood. According to Job 1:10, even the devil knows that Jesus can be a fence. I pray He be your fence today – guarding, guiding, and protecting you from the hand of the enemy.
Here's a reminder of some of the great things God is doing at Springfield Baptist Church.
SUNDAY SCHOOL BOOK DISTRIBUTION
Our Sunday School books are in. You have one more chance to grab a Sunday School book this coming Saturday from 11am to noon at the church during our drive-thru book distribution. The new quarter begins next Sunday, June 6th so get a book while supplies last.
MEN'S WEEKEND
Calling all Men! Men's weekend is right around the corner. This year our Men's weekend will kick off with a fishing tournament on Saturday, June 5th. If you want to participate in the tournament, please email for instructions and details. Then on Sunday, June 6th Rev. Dr. Tony Barr, Executive Secretary of the General Baptist State Convention of NC, will be our special guest speaker. We're excited about how God is creating Kingdom Men here at the Springfield Baptist Church.
CLASS OF 2021
Congratulations to all our 2021 graduates. As we prepare to honor you and your accomplishments, the scholarship ministry needs your name and the name of the school you are graduating from by Sunday, June 6th. Please send the information to .
OFFICE ASSISTANT POSITION
Springfield Baptist Church is hiring. We are looking for a qualified applicant to fill our open office assistant position. Check our website for the application and more details about the position. This is a position we were trying to fill last year when the pandemic hit. If you applied last year and are still interested, we need you to reapply with current information.
That's all for now. As usual, KEEP THE FAITH, STAY SAFE, WEAR, WASH & WAIT.
Pastor