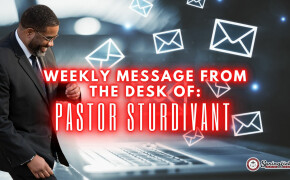 Health and Wellness Event, Vacation Bible School, Transportation Ministry, Young Adult Sunday, Walking track
Hi Springfield,
Psalm 139:14, "I praise you because I am fearfully and wonderfully made; your works are wonderful, I know that full well." (NIV) You are part of God's masterpiece. God has made you, but He did not just throw you together. He did not do a rush job when He made you. But you are fearfully and wonderfully made. You are specifically and specially made. You are meticulously and miraculously made. You are perfectly and purposefully made. The way that we honor God's great creation is to submit to His work and will to become who He has called us to be. Thank God that you are part of God's glorious works.
Here are some great things happening at our church.
HEALTH AND WELLNESS EVENT
There are THREE major health events happening at our church this coming Saturday, June 18th. The first two events are sponsored by the NC Minority Prostate Cancer Awareness Action Team. The third is sponsored by our own Healthcare Ministry.
PROSTATE CANCER EDUCATION & AWARENESS INFORMATION SESSION. This will take place in the Fellowship Hall from 7:30am to 11am.
HEALTH FAIR. This event features information on prostate cancer, diabetes, hypertension/stroke, clinical trials, lung cancer, PROMISE, Carolina Complete Health, and organ donation. There will also be a mobile unit available for prostate cancer screening. This will take place from 11am to 1pm in the parking lot. (To sign up for either of the first two events please see Deacon John Milner)
VACCINATION CLINIC. The Springfield Health Care ministry will provide Pfizer, Moderna and a few pediatric Pfizer vaccinations. Shingles, pneumonia and tdap vaccines will also be available (insurance cards are required for these). This will take place in the seal side lobby from 8am to 12:30pm.
Take care of the temple God has given you by being part of this event!
VACATION BIBLE SCHOOL
Mark your calendars now for VBS. It's coming Monday, June 20th through Friday, June 24th. This year's VBS will be in-person and virtual. The theme for this year is "I've Got This With Jesus." The dinner hour will begin nightly at 5pm with VBS devotion beginning at 6:15pm and classes starting at 7pm. We can't wait to see you there!
TRANSPORTATION MINISTRY
Need a ride to and/or from church? I'm happy to announce our transportation ministry is getting back on the road beginning Sunday, June 26th. To request a ride call (919) 772-8078 ext. 310 and leave your name, number, and pick-up address. All ride requests must be made by Saturday, June 25th by 9pm. All riders must be masked. Please use your JUICY FRUIT as we provide this service.
YOUNG ADULT SUNDAY
Young Adult Sunday is right around the corner. We're looking forward to this Young Adult Sunday on July 3rd at 10am. Rev. Dr. James Wilkes, pastor of the Elon First Baptist Church will be our special guest preacher. We have several great things planned for our young adults on that day, you don't want to miss this exciting event.
QUICK REMINDERS
Here are some quick reminders to make you aware of.
Don't forget the MPC walking track is open. For more information about walking and/or to register to walk send an email to .
Don't forget to log onto our website for Sunday school material. Click on your class for the material is listed there.
Thanks for all your support as we continue to strive to do God's will and be who He has called us to be. As usual, KEEP THE FAITH, STAY SAFE, WEAR, WASH, & WAIT.