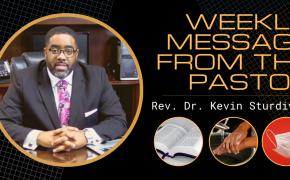 mlk celebrations, leadership retreat, family & friends day, contribution statements, virtual only
Hi Springfield,
In Psalm 147:5 David writes, "How great is our Lord! His power is absolute! His understanding is beyond comprehension!" Psalm 147:5 (NLT) He speaks in verse 5 about God being great. He speaks about God's infinite power and His complete understanding. In verse 6, David continues by saying, "The Lord lifts up the humble; He casts the wicked down to the ground." (NIV) As lofty as verse five is, verse six is just as lowly. God's great power is seen as being on high, and yet God still sees the lowly in their downtrodden state lifts in verse six. This is grandma's theology. David is saying the same thing grandma used to say when she would say "God sits high and looks low." Remember that today. The same God who has great power and complete understanding also has care and compassion enough to lift the lowly and protect them from the wicked. What a mighty God we serve.
MLK CELEBRATIONS
As we enter Martin Luther King Jr weekend, I want to remind you of some of the events happening in our community in observance of the holiday. Please take time to reflect on King's legacy and impact and participate in helping to bring King's dream of "The beloved community."
Raleigh Interdenominational Ministerial Alliance MLK Day wreath laying Friday, Jan. 14th at 9am in the MLK Memorial Gardens 1215 MLK Blvd Raleigh.
Garner's MLK Celebration will premiere on the town's YouTube channel, Sunday, Jan. 16th at 4pm.
Triangle Martin Luther King Jr. Committee MLK Day Interfaith Prayer Breakfast Monday, Jan. 17th on WRAL TV beginning at 8am.
MLK Day of Service Monday, Jan. 17th at Poole Family YMCA at 11am. Participants will help stock and store food for local food banks.
LEADERSHIP RETREAT
On Saturday, January 22nd at 9am we'll host a virtual leadership retreat. All ministry leaders are asked to attend. If you are not a current ministry leader but are interested in leadership, we'd love to see you there as well. There will be a time of training and development led by Harrison Sturdivant of the Center for Creative Leadership and inspiration and impartation by Rev. Dr. Larry E. Covington of the Ebenezer Church. In order to register for this event please click here.
FAMILY & FRIENDS DAY
On January 30th we will celebrate Family & Friends Day with a virtual service. I'm excited about this service! He qualifies as both. Rev. Carlton J. Sturdivant, pastor of the Wentworth Baptist Church will be our special guest speaker. Make plans to tune in.
CONTRIBUTION STATEMENTS
Springfield we are preparing your 2021 contribution statements. This year we'll be doing things a bit differently. This year you will have an option to receive your statement via email or have it mailed to your residential address. To choose to how you'd like to receive your statement you can click here or you can call (919) 772-8078 ext. 320 and leave your name, address and phone number.
VIRTUAL ONLY
For at least the rest of the month of January, all our services and planned events will be virtual as we continue our pause due to the latest COVID outbreak. Please continue to pray with us that God's wisdom and guidance will lead us as we move closer toward the day when we will be able to regather.
What do we do in the meantime? KEEP THE FAITH, STAY SAFE, WEAR, WASH, & WAIT.
Pastor