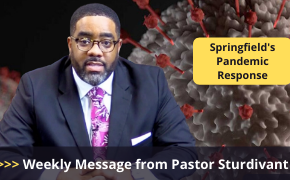 sunday school book distribution, in-person worship, children's bible study, business directory, look ahead
Hi Springfield,
What a blessing the Bible study series JUICY FRUIT has been. If you've missed it, I encourage you to check it out on one of our streaming platforms. We need JUICY FRUIT as we work through our reopening plan. As you know, there have been several adjustments we've had to make and many more may be in store. So, let's remember to "Walk in the Spirit, so that we will not fulfill the lusts of the flesh." (Galatians 5:16) JUICY FRUIT outweighs rotten seeds any day.
Here are some of the great things happening at the Springfield Baptist Church.
SUNDAY SCHOOL DISTRIBUTION
Our Sunday School books are in. You have one more chance to grab a Sunday
School book this coming Saturday from 12:30pm to 1:30pm at the church during our drive-thru book distribution. The new quarter begins next Sunday, September 5th, so get a book while supplies last.
IN-PERSON SUNDAY SCHOOL & WORSHIP
Just a few quick reminders as we continue to come together for in-person Sunday School and worship:
Pack your patience. We are growing in this process together.
Pre-screenings take place in the Fellowship Hall, Sanctuary and in the DSMPC prior to Sunday school at 8:30am and worship service at 10am.
The capacity numbers have been reduced campus-wide to ensure you are properly socially distanced.
If you are sick, have a high fever or are suffering from flu-like symptoms, please enjoy worship from the comfort of your own home.
CHILDREN'S BIBLE STUDY SCHEDULE
Parents, please remember our Children's Ministry Bible study schedule has changed. Our next in-person Bible study for the Children's ministry will be on September 7th at 7pm. This Bible study will also be on Zoom. (Zoom link to follow.) On September 21st, Bible study for the Children's Ministry will be virtual only. Please help us spread the word to all parents in the Children's Ministry.
BUSINESS DIRECTORY
Springfield, we have a new look business directory. It's a way for you to find and support small businesses. If you're looking for contractors, caterers, childcare, or counseling – you can find it in our directory. Click here to check it out. Thanks to the EEM for updating the directory.
LOOK AHEAD
Here's a look ahead to some things that are on the calendar for September.
Saturday, September 18th – Church Outing at 11am at Lake Benson Park in Garner.
Sunday, September 19th – Education Day
As usual KEEP THE FAITH, STAY SAFE, WEAR, WASH & WAIT!
Pastor