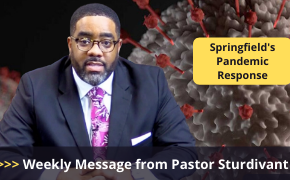 new griefshare cycle, senior citizen day, women's ministry virtual bookclub, in-person worship,
Hi Springfield,
The song says, "Prayer is the key faith unlocks the door, if you believe, it shall be done. He'll hear every word you say, before you call Him, He's on His way! Prayer will fix it every time!" That's the song in my spirit today. I hope it blesses someone else like it's blessed me today. There are some great things happening at your church. Here are just a few of them.
NEW GRIEFSHARE CYCLE
In 1 Thessalonians, the Apostle Paul tells believers not to grieve as those who have no hope. How do you do that? You can learn how by being part of our new Griefshare cycle which starts today August 12th at 6pm. To register you can log onto www.griefshare.org or call the church office at (919) 772-8078. Learn how to grieve well and have your hope renewed in Jesus Christ.
SENIOR CITIZEN DAY
The Bible says God will "renew your life and sustain you in your old age." Our Seniors With A Testimony are living proof. This Sunday we're honoring our seniors as part of our annual Senior Citizen Day. The colors for Sunday are navy blue and white. The Rev. Dr. Dwight O. Steele, Sr., pastor of the Pilgrim Baptist Church in Roanoke, VA, will be our special guest preacher. You don't want to miss this powerful service as we praise God for our seniors.
WOMEN'S MINISTRY VIRTUAL BOOKCLUB
Readers are leaders and leaders are readers! The ladies of Springfield are preparing for their next virtual book club. The book is When Women Pray by T.D. Jakes. The virtual book club is scheduled for Saturday, August 21st at 11am. Zoom details to follow.
IN-PERSON WORSHIP
I am excited to be hosting in-person worship again. As you know, though we've worked hard to keep you safe, COVID-19 infections are on the rise. If you are planning to be part of our in-person worship service, please keep the following in mind:
Please strongly consider being vaccinated if you haven't already.
If you are sick, have flu-like symptoms or don't feel well, please enjoy worship from the comfort of your home.
Please remember all services are masked and pre-screenings, including temperatures checks, will take place prior to each service.
Just as a recap, here are some details if you plan to attend Sunday School in-person.
Sunday School will begin at 8:30am. WE WILL NOT GATHER FOR DEVOTION IN THE FELLOWSHIP HALL.
Those attending Sunday School will go through COVID-19 protocols.
There will be three screening areas for Sunday school

In the Fellowship Hall
On the seal side of the Sanctuary
At the welcome desk in the DSMPC

Please use the screening area of the building where your class will be held.
Once you've be screened for Sunday School, you will receive a sticker. Please keep this sticker. This sticker will let the Healthcare Ministry know that you have already been screened if you plan to stay for 10am worship.
Sunday School representatives will be available at each screening area to direct students.
You will also be able to attend Sunday School on Zoom if you are not returning to in-person worship.
Only those who with a pre-screen sticker will be allowed to enter Sanctuary Door #5 which connects the DSMPC to the sanctuary. If you do not have a sticker, you must enter through one of the screening stations.
The class schedule and room assignments for Sunday school are attached below:
CLASS

TEACHERS

BUILDING

LOCATION

Senior's Citizen

Deac. Cooper, Rev. Hawkins, Sis. Wilmore

Fellowship Hall

Main Room

Youth

Sis. Dobbin, Bro. Davis, Min. Turner

Multi-Purpose Center

Youth Room MPC# 242

Children's

Sis. Stokes, Bro. Dobbin

Multi-Purpose Center

Children's Room

MPC #234

Young Adult

Deac. Clarke, Rev. King

Multi-Purpose Center

MPC #238

Adult

Rev. Farmer, Deac. Gibson, Bro. Hinton, Sis. Aguilar, Bro. Marshall

Multi-Purpose Center

Gymnasium

Economic Empowerment

Deac. Jenkins

Multi-Purpose

Center

Computer Lab
IN-PERSON WORSHIP
Here are some details that will be helpful for those who will attend in-person worship.
Both the seal side and covered drop offs will be used as screening stations for worship in the sanctuary.
If you intend to sit together with your family during worship, please enter the sanctuary together. Due to spacing restraints the ushers will not be able to save seats.
Once we have reached capacity in the sanctuary, worshippers will be directed to the multi-purpose center for overflow seating.
And as usual, KEEP THE FAITH, STAY SAFE, WEAR, WASH & WAIT.
Pastor