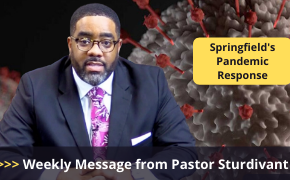 Annual Prayer Seminar, Free Produce Boxes, Women's Ministry Book Club, Children's Day
Hi Springfield,
I trust you are having a fantastic Friday. Romans 12:12 says, "Rejoice in hope, be patient in tribulation, be constant in prayer." (ESV) In this verse, Paul gives believers three commands that should help center our lives and steady our focus – rejoice, be patient and pray! Let this verse bless you today, in whatever you attempt to accomplish.
ANNUAL PRAYER SEMINAR
The 16th annual prayer seminar is tomorrow, Saturday, April 10th at 9am. This seminar is designed to increase your faith and sharpen your prayer life. The theme for the seminar is: "The Battle is not yours, it's the Lord's." Reverend Mark Farmer and I will be among the presenters for the sessions. The Zoom link for the session is on our church website. I hope to see you there.
FREE PRODUCE BOXES
Free produce boxes will be given away Sunday, April 11th, after the morning service. The boxes are filled fruits and vegetables to help feed your family. Thanks to Deacon Derrick Leach and Kingdom Outreach Ministry for helping Springfield be a part of this outreach effort. The boxes are first come, first serve so get them while you can.
WOMEN'S MINISTRY BOOK CLUB
The Women's Ministry will have a virtual book club meeting on Saturday, April 17th at 11am. The group will discuss the book, An Extra Mile: A Story of Embracing God's Call by Sharon Brown. Join the women for the finale from the Sensible Shoes series! Zoom details to follow.
CHILDREN'S DAY
I'm excited about our annual Children's Day which will be next Sunday, April 18th at 10am. We are making plans now to be a blessing to all the wonderful children of Springfield Baptist Church. I pray that all our children will tune in and be blessed.
These are just a few of the exciting things happening at the Springfield Baptist Church. I pray you will plan to be a part. As usual, KEEP THE FAITH, STAY SAFE, WEAR, WASH & WAIT.
Blessings