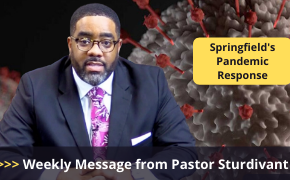 Easter Weekend, Annual Prayer Seminar, Free Produce Boxes, Children's Day and FEMA Funeral Reimbursement.
Hi Springfield,
Last week, I started this email with the lyrics to the hymn "At the Cross." This week I want to start at the tomb.
An empty grave is there to prove My Savior lives.
Because He lives, I can face tomorrow,
Because He lives, all fear is gone,
Because I know He holds the future,
And life is worth the living just because He lives!!!
Somewhere between the cross and the tomb is where we get our victory! Hallelujah! As we celebrate the Resurrection of our Lord and Savior Jesus Christ, let's prepare for some of the great things God is doing.
EASTER WEEKEND
We have a lot of exciting things planned for Easter weekend here at the Springfield Baptist Church. Here are some of the things we're planning. I hope you will make plans to attend.
7 LAST SAYINGS FROM THE CROSS.

On Good Friday, April 2

nd

at 7pm we will broadcast a 7 Last Sayings from the Cross. I am grateful for our associate ministers (Rev. Roger Davis, Rev. Curtis Joyner, Rev. Angela Leach, Rev. Tiffany Sturdivant, and Min. Melvin Turner) and sons of Springfield (Pastor Nolan Davis and Pastor Elmo Vance Jr.) who are scheduled to preach. Please pray with and for them as they remind us of the power of the cross. The service will be broadcast on our website stream, Facebook page and YouTube channel.

STATE OF THE CHURCH ADDRESS. I am also planning a state of the church address, Saturday, April 3

rd

at 4pm in our church parking lot. This address is designed to share with you some of the great things God has done at Springfield since the pandemic began. I am asking all of our members to make plans to attend.

DRIVE-IN WORSHIP.

I'm excited about our plans for drive-in worship on Resurrection Sunday, April 4

th

at 10am in our church parking lot. I'm thankful that the forecast looks great for Sunday's service. Sunday school will be cancelled this Sunday because of drive-in worship. The parking lot will open at 9am. Come early and worship God with us!
ANNUAL PRAYER SEMINAR
As you know one of the main points of emphasis for this year is prayer. I am grateful for the many ways our members are engaging in prayer. On Saturday, April 10th at 9am you'll have another opportunity to do just that with our Annual Prayer Seminar. This year's event will take place via Zoom. Several presenters and topics are planned to help you improve your prayer life. The Zoom link is on our church website. Make plans to attend and be blessed.
FREE PRODUCE BOXES
On Sunday, April 11th, beginning at 11:30am you'll have another chance to receive a free produce box. The box is filled fruits and vegetables to help feed your family. Thanks to Deacon Derrick Leach and Kingdom Outreach Ministry for helping Springfield be a part of this outreach effort. The boxes are first come, first serve so get them while you can.
CHILDREN'S DAY
Our Annual Children's Day is right around the corner. Sunday, April 18th at 10am. We are making plans now to be a blessing to all the wonderful children of Springfield Baptist Church. I pray that all our children will tune in and be blessed.
FEMA FUNERAL REIMBURSEMENT
Don't forget to log onto www.fema.gov for more information about how the American Rescue Plan Act of 2021 may qualify you or your family for a funeral reimbursement.
That's all for now. As usual, KEEP THE FAITH, STAY SAFE, WEAR, WASH & WAIT.
Pastor