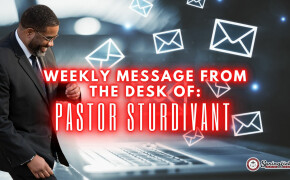 Super Duper Saturday- Ministry Fair, Sunday School Material, Walking Track Opening, How Money Works Webinar, Health and Wellness Event, Prostate Cancer Education & Awareness Information Session, Health Fair, Vaccination Clinic, Vacation Bible School
Hi Springfield,
You know I love hymns. This is the one on my heart today. One I've shared with you in the past.
Down at the cross where my Savior died,
Down where for cleansing from sin I cried,
There to my heart was the blood applied,
Glory to His name!
Glory to the name of Jesus for all the great things He has done and is doing at the Springfield Baptist Church. Here are just a few things God is doing at our church.
SUPER DUPER SATURDAY – MINISTRY FAIR
The countdown is on for Super Duper Saturday. This coming Saturday, June 11th all roads lead to Springfield Baptist Church for our new member's orientation and ministry fair. This is a time for ALL our members new and old to re-engage with the ministries of our church and find out your fit to serve in God's kingdom. Details are as follows:
8am Ministry Fair set-up time.
9am New Member's Orientation both in-person and online. (For Zoom access click on the graphic on the website.)
10am Church-wide Ministry Fair.
SUNDAY SCHOOL MATERIAL
Due to supply chain issues our Sunday School books still have not arrived. To get your Sunday School material please log onto our church website. The classes are listed there. Simply click on your class and material will appear. Thank you for being flexible during this time.
WALKING TRACK OPENING
Get ready to walk! Our walking track will be available for people to walk on beginning Monday, June 13th at 8am. Please note the following about our walking track opportunities:
Walking opportunities will be Mondays – Wednesdays from 8am to 11am; Thursdays 9am to 11am.
All walkers must be masked and temperature checked.
All walkers must register to walk will have access to the track for 1 hour.
Please socially distance as much as possible.
If you would like to begin to register to walk email with your first & last name, email, cell number.
This is our initial walking plan. Please be patient with us as we work to add more time slots and opportunities in the future.
HOW MONEY WORKS WEBINAR
The Economic Empowerment Ministry is hosting webinar Monday, June 13th @ 7pm on Zoom entitled "How Money Works." All participants are asked to log in a 6:50pm. The login information for this webinar is available on our church website. Learn how to be a good steward of God's resources.
HEALTH AND WELLNESS EVENT
A major health and wellness event is coming to the campus of the Springfield Baptist Church on Saturday, June 18th. There will be THREE events happening at once: (The first two events are sponsored by the NC Minority Prostate Cancer Awareness Action Team)
PROSTATE CANCER EDUCATION & AWARENESS INFORMATION SESSION. This will take place in the Fellowship Hall from 7:30am to 11am.
HEALTH FAIR. This event features information on prostate cancer, diabetes, hypertension/stroke, clinical trials, lung cancer, PROMISE, Carolina Complete Health, and organ donation. There will also be a mobile unit available for prostate cancer screening. This will take place from 11am to 1pm in the parking lot. (To sign up for either of the first two events please see Deacon John Milner)
VACCINATION CLINIC. The Springfield Health Care ministry will provide Pfizer, Moderna and a few pediatric Pfizer vaccinations. Shingles, pneumonia and tdap vaccines will also be available (insurance cards are required for these). This will take place in the seal side lobby from 8am to 12:30pm.
Take care of the temple God has given you by being part of this event!
VACATION BIBLE SCHOOL
Mark your calendars now for VBS. It's coming Monday, June 20th through Friday, June 24th. This year's VBS will be in-person and virtual. All virtual attendees ages 2-17, goody bags will be available for pick up in the fellowship hall after Sunday's worship service on the 19th . The theme for this year is "I've Got This with Jesus." The dinner hour will begin nightly at 5pm with VBS devotion beginning at 6:15pm and classes starting at 7pm. We can't wait to see you there!
Whew! That's a lot. But we can get it done with your support and God's help.
As usual, KEEP THE FAITH, STAY SAFE, WEAR, WASH & WAIT!