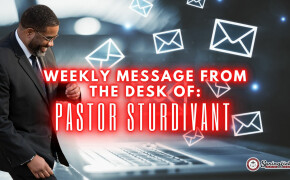 Church Conference, Audio/Visual Ministry Workshop, Pastor's Preaching Schedule, Unspoken Documentary & Senior Citizen Sunday
Hi Springfield,
Our lives are so busy. I know mine is. On days like today, I greatly value the concluding words of one of my favorite psalms. Psalm 42:10 says, "Be still, and know that I am God: I will be exalted among the heathen, I will be exalted in the earth." Be still and know that I am God. What a powerful statement. Sometimes busyness can allow doubt to creep in. But in stillness, when we slow-down enough to meditate on God, His word and His goodness, we will then know that God is indeed God. And because He is God, He will remind us of the assurance that He can take care of us. Make sure to take time to be still and know!
CHURCH CONFERENCE
Friday, August 5th at 7pm we will have a Church Conference. This session will be in-person only. Please make plans to attend this important informational session.
AUDIO/VISUAL MINISTRY WORKSHOP
Are you interested in being part of our A/V ministry? Our A/V Ministry is having a workshop/interest meeting on Saturday, August 6th at 10am. This meeting will take place in the sanctuary. Come out to learn some basic skills to better serve in this ministry.
PASTOR'S PREACHING SCHEDULE
Join Pastor Sturdivant for one of these worship opportunities. If you can't go, send your prayers.
Monday, August 8th at 7pm – Johnston Piney Grove Missionary Baptist Church in Clayton, NC for their annual revival.
Tuesday, August 9th at 7pm – Holmes Grove United Methodist Church in Greensboro, NC for their annual revival.
"UNSPOKEN" DOCUMENTARY
On August 13th at 6pm, we'll be showing a new documentary produced by the Jude 3 Project called "Unspoken." The documentary is designed to answer some basic questions around Christianity for the Black community. Take advantage of this opportunity to learn about our history and our faith.
LOOK AHEAD
Senior Citizen Sunday is August 21st. Our special guest speaker will be Rev. Dr. Jerry O. Wilson, pastor of Beulah Baptist Church, Leasburg, NC. Any seniors wanting to sing in the choir, please attend choir rehearsal on August 11th and 18th at 7pm. More details to come.
Don't forget the MPC walking track is open. For more information about walking and/or to register to walk send an email to .
Springfield is still a COVID-19 testing site through our partnership with Mako Medical. PCR testing is Monday through Friday 9am to 4pm.
Thanks for all your support as we continue to strive to do God's will and be who He has called us to be. As usual, KEEP THE FAITH, STAY SAFE, WEAR, WASH, & WAIT.