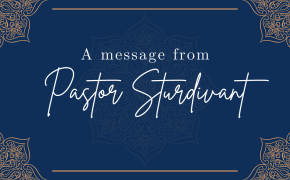 Children's Day, Women's Weekend, National Day of Prayer, Dive into Summer Reading, Spotlight Features, Activities Coordinator, Free Covid-19 Testing
Hi Springfield,
Mark 9:36-37 says, "And he took a child and put him in the midst of them, and taking him in his arms, he said to them, 'Whoever receives one such child in my name receives me, and whoever receives me, receives not me but him who sent me.' " (ESV) These verses of scripture reveal the child-like faith necessary to receive Christ as the one who God sent. Children were important to Jesus. Children are important to God. If children are important to God and important to Jesus, they should be important to us. Let's pray for our children and Children's Ministry, not just because we celebrate an annual day, but because it is important to God.
CHILDREN'S DAY
I am excited about our annual Children's Day. We'll be celebrating Children's Day Sunday, April 24th at 10am. Here are a few notes from Children's Ministry as we prepare for that special day.
Children's Choir Rehearsal will be Thursday, April 21st @7pm and Saturday, April 23rd at 10am.
Children's Day attire will be white dresses for girls and dark pants and white shirts for boys.
Children's Ministry Bible study will be virtual only on April 26th.
Parents make sure your children are a part of Children's Day 2022.
WOMEN'S WEEKEND
Women's weekend is right around the corner. Join our Women's Ministry beginning Friday, April 29th through Sunday, May 1st for several power-packed and exciting events.
Friday, April 29th from 6pm to 10pm there will be a virtual pajama workshop to help renew your mind, refresh your soul, and energize your body. The link to the virtual workshop will be on our website.
On Saturday, April 30th at 10am there will be a one-mile walk/run event held in our church parking lot. Come out and enjoy fellowship and exercise.
On Sunday, May 1st we will be celebrating Women's Day. Our special guest speaker will be Rev. Brodwynn Charles Roberts.
NATIONAL DAY OF PRAYER
On Thursday, May 5th at 7pm our Prayer Ministry will observe the National Day of Prayer. We will come together to pray over several themes on that day. Because of this special service, our regular Wednesday evening prayer meeting will be canceled. Make plans to join us then.
DIVE INTO SUMMER READING
This summer our Education Ministry wants to make sure your child does more than play video games and hang out on TikTok. They're sponsoring a Dive Into Summer Reading campaign to support our students and our adopted schools. If you're interested in signing your child up or in donating books for the reading drive, go to our website to register today.
SPOTLIGHT FEATURES
Ministry leaders please note the change. If your ministry needs to announce something in the Springfield Spotlight, please email the information to our new web coordinator at . The information should include your ideas of what you'd like seen and said during the Spotlight announcement. Our web coordinator will make sure that your ministry has the right shine!
ACTIVITIES COORDINATOR
Springfield Baptist is hiring. We're looking for an Activities Coordinator. If you're interested, please submit your resume and an application to or mail it to the church office 4309 Auburn Knightdale Road, Raleigh, NC 27610.
FREE COVID-19 TESTING SITE NEW HOURS
We continue our partnership with Mako Medical to be a free COVID-19 testing site. The new testing hours are 9am to 4pm. Thank God for our partners at Mako Medical and from the State of NC for helping make this happen. Please help us spread the word in our community about this opportunity.
As usual, KEEP THE FAITH, STAY SAFE, WEAR, WASH & WAIT!
Pastor