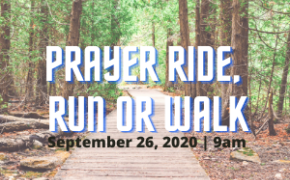 All are welcome to this family prayer ride, run or walk at Anderson Point Park.
Ride, Run or Walk at Anderson Point Park
Saturday, September 26, 2020 at 9am
NEW LOCATION: Meet at Anderson Point Park


20 Anderson Point Dr., Raleigh, NC 27610.

Bring your helmet if you're riding.
Ride, run or walk for 15, 20, 30 minutes, turn around and come back. Total time 30, 40, or 60 minutes.
Keep right to allow more experienced riders to pass on your left.
Remember to social distance.
When you arrive, please check in via the form below.