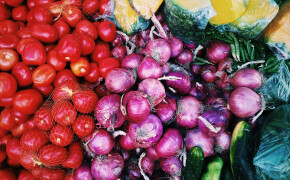 Tips for developing healthy habits
"Beloved, I wish above all things that thou mayest prosper and be in good health, even as thy soul prospereth." 3 John 1:2
A healthy eating plan: fruits, vegetables, whole grains, fat-free or low-fat milk and milk products, lean meats, poultry, fish, beans, eggs, and nuts. Eat Healthy and Enjoy it!
(www.choosemyplate.gov)
In addition to a healthy eating plan, an active lifestyle will help you maintain your weight. By choosing to add more physical activity to your day, you'll increase the amount of calories your body burns. Regular physical activity can reduce your risk for many chronic diseases and it can help keep your body healthy and strong.
March was National Nutrition Month. Let's be healthy for good!

EAT SMART……make healthy, delicious choices wherever and whenever you eat
ADD COLOR…..make life more colorful with fruits and vegetables
MOVE MORE…..infuse more movement into your life for optimal health
BE WELL…..create balance, vitality, and wellbeing through self-care


If you have diabetes, here's a way to keep standing on your own two feet-- --check them every day-- -even if they feel fine-- -- and see your doctor if you have a cut or blister that won't heal.
If your think someone may be having a stroke, act F.A.S.T
a. F—Face: ask the person to smile. Does one side of the face droop?
b. A-- -Arms: ask the person to raise both arms. Does one arm drift downward?
c. S-- -Speech: ask the person to repeat a simple phrase. Is the speech slurred or strange?
d. T-- -Time: If you see any of these signs, call 9-1- 1 right away.
In Healthiness, SBC Healthcare Ministry