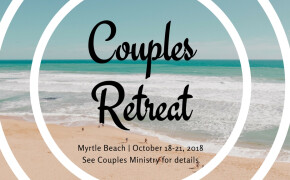 Couples Retreat - October 18-21st
A blissful weekend of marital bonding, fun, encouragement and peace awaits you at the 2018 Couples' Retreat. The retreat will be held October 18-21, 2018 with the following activities planned.
Two encouraging teaching session with:

Brother Kino and Reverend Renee Jones
Brother Leo and Sister Linda Gladney

Music at the beach with Brother Walter Richardson and the Guys
Art
Massage Therapy
Lots of fun!
It is essential that you secure your spot by the second Sunday in July (July 8th). Your deposit is due at that time. Representatives from the Couples Ministry will be in the Fellowship Hall after service for more details.