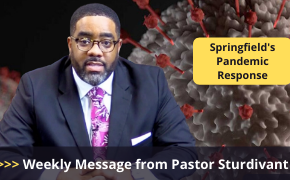 Voter Information Forum, Coronavirus Care Package Giveaway, Springfield Church Outing, COVID-19 Testing Opportunities
Hi Springfield,
I will call upon the Lord!
For He is worthy to be praised.
So, shall I be saved from my enemies.
Hosanna, blessed be the Rock of my salvation.
The lyrics of this wonderful song remind us our salvation is in calling on the name of the Lord. When was the last time you just called on the name of Jesus? His name still has power. Even in times like these.
There's so much to share with you today about some of the wonderful things God is doing at Springfield Baptist Church.
VOTER INFORMATION FORUM
Next Tuesday, September 8th, Bible study will be different. We will host a voter information forum at 7pm with a Board of Elections official. This forum is designed to share information about the upcoming election. As you know, this election will be like no other due to COVID-19. I want to make sure we are all armed with the information we need so that our voice is not taken away. If you have questions about voting for next week's forum, please email them to
CORONAVIRUS CARE PACKAGE GIVEAWAY
On Saturday, September 12th at 11am we will have another Coronavirus care package giveaway. The care packages are filled with groceries. This has been a continuing effort since the pandemic began for our church to be a blessing to the community. Thanks to our Missionary Ministry for their support. Stop by pick up a package for yourself, a friend or a neighbor. Let's remember we're blessed to be a blessing.
SPRINGFIELD BAPTIST CHURCH OUTING
This has been a year where we've been forced to be creative. Because of that our church outing on Saturday, September 19th at noon will look different as well. The outing will be a parking lot picnic featuring a family movie matinee. We'll have food and fellowship while being socially distanced. We're turning our parking lot into a drive-in to show the movie Overcomers. Please make plans to attend.
COVID-19 TESTING SITE
I'm very excited to announce our partnership with Advance Community Health will continue in the month of September. This month we will have three more opportunities to be a host site. On Thursdays, Sept. 10th, 17th and 24th COVID testing will take place at our church. Please make plans to get tested. Testing is one of the strategies needed to help fight this virus.
What are some other ways you can fight it? KEEP THE FAITH, STAY SAFE & WASH YOUR HANDS.
Pastor