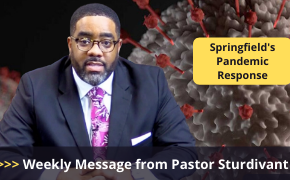 Church Outing/Movie Matinee, Education Day, Youth Ministry Ride, Run or Walk, Census 2020 and Free COVID-19 Testing
Hi Springfield,
Isaiah 26:3 says, "You will keep him in perfect peace, whose mind is stayed on You, because he trusts in You." This is a comforting scripture, especially in a time like this. The term perfect peace shows the intensity of the peace that God intends to give. It's not just peace. It is peace multiplied. It is peace that allows us to walk through difficult situations without falling apart. It is God's perfect peace. But the verse also teaches this kind of peace only comes when we focus our minds on the Lord. If you want perfect peace, you've got to keep your mind focused on The One who gives perfect peace. Whatever comes – let's train our minds to focus on the Lord so that we can receive His perfect peace.
CHURCH OUTING/MOVIE MATINEE
Our parking lot picnic/movie matinee happens Saturday beginning at noon. Please come out and enjoy socially distanced food and fellowship while we screen the movie Overcomers. When you arrive at church, tune your radios to 103.3 FM to hear the audio for the event. We'll also have a special trailer from the Drama Ministry before the movie starts that you do not want to miss.
EDUCATION DAY
This coming Sunday we will celebrate Education Day. Education Day was set aside as a day to stress the importance of education and to financially support Springfield's Scholarship Ministry. Make sure to tune in and be blessed.
YOUTH MINISTRY RIDE, RUN OR WALK
The Youth Ministry is sponsoring a ride, run or walk event on Saturday, September 26th at 9am at the Neuse River Trail. It's an opportunity to get out of the house and exercise. Participants are asked to meet at the Auburn-Knightdale Parking and Trail entrance. Remember to wear your helmet and socially distance.
CENSUS 2020
Please make sure you have filled out your census information. The census is vitally important to maintaining proper funding and services in our communities. It also helps to determine future political representation at all levels of government. The deadline for filling out the census is fast approaching. Make sure your voice is heard. Go to my2020cesus.gov. to complete the online form.
FREE COVID-19 TESTING
Don't forget about the free COVID-19 testing at our church today and next Thursday, Sept. 24th from 11am to 3pm.
And after you get tested, KEEP THE FAITH, STAY SAFE & WASH YOUR HANDS.
Blessings Always,
Pastor