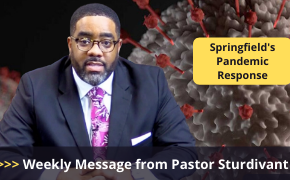 Coronavirus Care Package giveaway, COVID-19 Testing, Church Outing & Movie, Education Day and Exercise Day.
Hi Springfield,
On this thankful Thursday take time with me to celebrate the name of Jesus Christ. One of my very favorite Gospel songs reminds us to celebrate the name of Jesus our Lord and King. What a powerful refrain that is. When we learn to celebrate the name of Jesus it boosts our hope, raises our expectation and connects us with the One who loved us so much that He died for us and rose with all power in His hand. I promise you'll feel better if you take the time to celebrate His name today! Because at the name Jesus, demons tremble and hell gets nervous. Glory to His name, precious name!
As usual, there are many things to share with you today about the great things happening at our church.
FREE GROCERIES
This coming Saturday, September 12th at 11am we'll have another Coronavirus care package giveaway. Thanks to our Missions Ministry and all our volunteers for spearheading this effort. Make plans to come and get a bag of groceries, while supplies last, for yourself, your family or someone you know who is in need. Thank God for the opportunity to serve the community in this way because we're blessed to be a blessing.
SPRINGFIELD BAPTIST CHURCH OUTING/MOVIE MATINEE
The annual church outing is just around the corner. Though it will look different this year, we're glad for a chance to come together as a church. On Saturday, September 19th at noon, come out for a time of food, fun and fellowship while remaining socially distanced. Just like our parking lot picnic, you'll have a chance to grab some food and remain in your car. But we'll also be showing the family movie Overcomers. Please make plans to attend.
FREE COVID-19 TESTING
After today, you'll have two more chances this month for free COVID-19 testing. Next Thursday, Sept. 17th and Thursday, Sept. 24th. Let's take advantage of this opportunity to help stop the spread of COVID-19. Thanks to Advance Community Health for their partnership in this effort.
EDUCATION DAY
Education Day is Sunday, September 20th. It's a day where we take time to reflect on the importance of education and do our part to financially support the scholarship ministry so that our church can help educate the next generation. We're also working on a special surprise that we hope will be a blessing. Make sure you tune in.
EXERCISE DAY
We're also planning an exercise day in conjunction with the Youth Ministry for Saturday, September 26th. This will be a time where participants can walk, jog or bike for a little exercise while being socially distanced. Stay tuned for more details.
The Lord is richly blessing the Springfield Baptist Church. As He does so, let's remember to KEEP THE FAITH, STAY SAFE & WASH YOUR HANDS.
Pastor