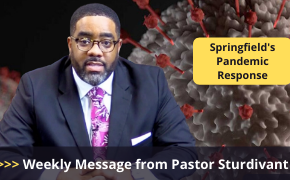 Early Voting, Leadership Meeting, COVID-19 testing and Homecoming 2020
Hi Springfield,
It reaches to the highest mountain,
It flows to the lowest valley,
The blood that gives me strength from day to day
Will never lose its power!
That familiar melody of the church has been on my heart today. I'm so glad that it will never lose its power. Through COVID-19, sickness, problems, economic downturn and social unrest – the blood will NEVER LOSE ITS POWER! Thank God for that.
EARLY VOTING
Today begins early voting! Make sure you have a plan to vote. This election is too critical for you to sit on the sidelines. Make sure your vote counts and your voice is heard. At Springfield we are doing all that we can to make sure your voice is heard. On Sunday from 11:30am to 12:30pm the Civic Action Ministry will be giving out voter protective gear (VPG) for those who plan to cast their ballots in person. The VPG package includes: a mask, disposable pen, hand sanitizer, and information about the early voting sites. If you plan to vote in person, come by and grab a package before you mask up and vote. Thank God for the Civic Action Ministry.
WOMEN'S MINISTRY BOOK CLUB DISCUSSION
Join the Women's Ministry tonight at 7pm the Women's Ministry will host another book discussion about the book Sensible Shoes featuring the author of the book Sharon Brown. This promises to be an exciting time of discovery and discussion. If you want the ZOOM information email
LEADERSHIP MEETING
This coming Saturday, October 17th at 11am we will have a leadership meeting via ZOOM. The brief meeting will discuss the budgeting process for 2021. Leaders you should already have the ZOOM link in your ministry emails. If need be, you should also be able to hear the call on our regular conference line (775) 799-9067. The ZOOM information is listed below. See you Saturday.
Participant Login:
Join Zoom Meeting
https://zoom.us/j/96408270333?pwd=WWNoYk5pRFpFbjd1TUlRZkVkTHozUT09

Meeting ID: 964 0827 0333
Password: 394136

Dial by your location
+1 646 558 8656 US (New York)
Meeting ID: 964 0827 0333
Password: 394136
Find your local number: https://zoom.us/u/acSEKhZVIm
FREE COVID TESTING
Our partnership with Advance Community Health will continue this month. On Wednesday, October 28th from 11am to 3pm we will once again be a host site for free COVID-19 testing. If you know someone who needs to be tested, encourage them to take advantage of this opportunity.
BREAKING NEWS
I am excited to announce that Homecoming 2020 is going to be done drive-in style! We're planning a drive-in worship service for our Homecoming celebration Sunday, November 1, at 10am. You'll be able to drive to the church, remain in your cars and hear the Word of God as we celebrate Homecoming together. As you know Homecoming is a special day in the life of our church and we wanted to make it special in 2020 too. This effort is going to require a lot of patience and prayer as we work through the logistics of parking cars and serving our members and friends. Please begin praying now that it will be a success and that God will be pleased and praised!
As usual KEEP THE FAITH, STAY SAFE & WASH YOUR HANDS.
Blessings Always,
Pastor