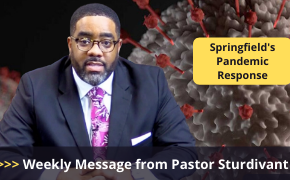 Women's Ministry Book Club, Free Groceries, Prayer Meeting, Sunday School Books and the retirement of Sister Willie Mae Roberson.
Hi Springfield,
"In my distress I cried out to the Lord; yes, I cried to my God for help. He heard me from His sanctuary; my cry reached His ears." (2 Samuel 22:7) In this simple verse of scripture, David find comfort in knowing that God has heard his cry. Whatever your cry is today, know that the Lord has heard it. Your petition has reached His ears. Your prayer has touched His heart. Your concern is on His mind. Despite, all the noise in our current lives and situations – thank God that our cries have reached His ears.
WOMEN'S MINISTRY BOOK CLUB
Just one more day before the next Women's Ministry Virtual Book Club on Saturday, November 21st at 11am. The Women's Ministry has been working very hard to provide a thought-provoking and beneficial discussion of the new book Two Steps Forward by Sharon Brown. If you'd like to attend this ZOOM event, send an email to .
FREE GROCERIES
For the 5th time since the pandemic began, we're hosting a Coronavirus Care Package giveaway. This coming Saturday, November 21st at 11am come out and get a free bag of groceries or grab a bag for someone you know who is in need. The giveaway is first come, first serve. Make plans now to attend.
PRAYER MEETING
Calling all prayer warriors! We're looking to resume our Wednesday evening prayer meetings. The prayer meetings will be virtual. If you're interested in being a part of our Wednesday evening prayer meeting, please send an email to .
SUNDAY SCHOOL BOOKS
As you know we are approaching the end of our Sunday school term which means new books are on the way. We are planning to give the books away, Saturday, November 28th at 11am. Make plans to attend to pick one up.


BREAKING NEWS
After 41 years as our church secretary, Ms. Willie Mae Roberson is retiring at the end of 2020. Sis. Roberson has served our church with grace and dignity and has been a major part of the success of our ministry. I believe she deserves to be honored for her years of service. I know you believe that too. We are planning a drive-thru celebration for her on Sunday, November 29th after the 10am service. Please make plans to attend and bring your cards, gifts and tokens of appreciation for a well deserving soldier in the army of the Lord.
There are also many exciting things we are preparing for the month of December and I look forward to sharing them with you soon. In the meantime, KEEP THE FAITH, STAY SAFE & WASH YOUR HANDS.