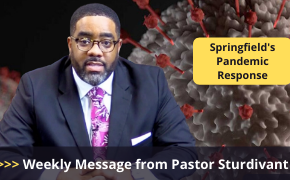 FREE Groceries, Women's Ministry Book Club, and Wednesday night prayer meeting.
Hi Springfield,
"Put on the full armor of God, so that you can take your stand against the devil's schemes." Ephesians 6:11 (NIV) As you know, this is one of the most famous verses of scripture written by the apostle Paul. Paul tells us to put on the whole armor. This verse jumped to mind as I thought about what we're enduring in this pandemic. Many of us wouldn't think twice of going into a public place without our mask or gloves. But how many of us are that diligent about putting on the full armor as we are about putting on our masks? Don't fall for the devil's schemes. Don't be susceptible to his plots. Don't fall victim to the devil's lies. Put on the whole armor of God. In fact, put it on and keep it on!
WOMEN'S MINISTRY BOOK CLUB
The countdown is on to the next Women's Ministry Virtual Book Club on Saturday, November 21st at 11am. The ladies will read and discuss a brand-new book entitled Two Steps Forward by Sharon Brown. If you'd like to attend this ZOOM event, send an email to .
FREE GROCERIES
I'm grateful to God for all the ways we continue to serve our community in this pandemic. On Saturday, November 21st at 11am, we're hosting another Coronavirus Care package giveaway. Come out and get a free bag of groceries or grab a bag for someone you know who is in need. If you're interested in helping the Missionary Ministry please email to . It's first come first serve some make plans now to attend.
PRAYER MEETING
Prayer will change things. I know by your response to our email blast last week that you believe that too. We're also looking to resume our Wednesday evening prayer meeting. If you are interested in being a part of it you can sign up by sending an email to .
As we prepare for Thanksgiving and the Christmas season, I want to remind you to be safe and use caution. That includes doing your best to KEEP THE FAITH, STAY SAFE & WASH YOUR HANDS.