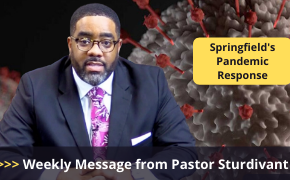 Virtual Revival and COVID-19 Testing at Springfield
Hi Springfield,
I woke up this morning with this great hymn of the church, written by Edward Mote, on my mind…
My hope is built on nothing less
Than Jesus' blood and righteousness;
I dare not trust the sweetest frame,
But wholly lean on Jesus' name.
On Christ, the solid rock, I stand;
All other ground is sinking sand,
All other ground is sinking sand.
That hymn was true when it was written in 1834 and it's still true now!
Although, I normally send the email blast on Thursday, I wanted to reach out a few days early to remind you some important news.
VIRTUAL REVIVAL
Our virtual revival kicks off tonight @ 7pm. You will be able to see the revival on our website, on Facebook Live or hear it on our conference call line. Our revival guest speakers are as follows:
Tuesday @ 7pm – Rev. Dr. Rodney Coleman, Pastor of First Baptist Church – Chapel Hill, NC

Wednesday @ 7pm – Pastor Mark Gibson, Pastor of Redeeming Love Missionary Baptist Church, Raleigh, NC

Thursday @ 7pm – Rev. Dr. Bankole Akinbinu, Pastor of Baptist Grove Church, Raleigh, NC
Please pause at noon each day of our revival to pray God's blessings over our time together in God's word.
COVID-19 TESTING @ SPRINGFIELD TUESDAY, AUGUST 4th & FRIDAY, AUGUST 7th
Next week our church, in partnership with Advance Community Health, will host COVID-19 testing on both Tuesday, August 4th and Friday, August 7th. Testing will happen from 11am to 3pm. The available tests are limited. I am asking members who want to be tested to pre-register for this event.
Or to register for either event you can call (919) 833-3111.
I am sure you might have questions regarding the COVID-19 testing. Advance Community Health has put together answers to frequently asked questions and other information about COVID-19 found here and under Online Documents on the Homepage.
PRAYER CALL
We will have our regular prayer call tomorrow morning at 6:30am. We look forward to sharing with you in our time of prayer.
Blessings be multiplied to you today and always. As usual, KEEP THE FAITH, STAY SAFE & WASH YOUR HANDS!
Pastor