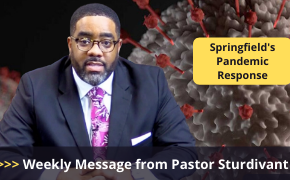 FREE COVID-19 testing, assistance with paying past due utility bills, check-ins for children and youth, Senior Citizens Day, voter registration and more!
Hi Springfield,
I hope everyone is well and safe on this terrific Thursday. Deuteronomy 31:8 says, "The Lord himself goes before you and will be with you; he will never leave you nor forsake you. Do not be afraid; do not be discouraged." That's my word to someone today. Don't be discouraged. Discouragement is dangerous. It is like a slow air leak in a tire. Soon the tire will be too flat to be effective. Don't allow the challenging times to cause a slow leak in your spirit. Stay encouraged because the Lord promises to go before us, be with us, and never leave us. Praise God for that.
FREE COVID-19 TESTING
Tomorrow we will be hosting free COVID-19 testing at our church. This is in partnership with Advance Community Health. The testing will take place from 11am to 3pm. Remember, supplies are limited. If you need to register for a test you can do so by calling (919) 833-3111.
WAKEHELPS ASSISTANCE PROGRAM
Do you need help paying past due utility bills? This week, Wake County launched a new program aimed at helping households catch up on past due electric, water, wastewater, natural gas and solid waste bills. Qualified households can receive up to $500. For more information on how to apply please call WakeHELPS at (919) 212-0476. If you know someone who needs help, be a blessing and share this information with them.
YOUTH CHECK-IN
On Saturday, August 15th, I will be hosting a check in with our young people via ZOOM. I will be hosting a check-in with our children beginning at 12:30pm. The check-in for our youth will begin at 1:30pm. I look forward to the opportunity to see their smiling faces and chat about what's going in their lives. More details will follow.
SENIOR CITIZENS DAY
We are looking forward to celebrating our annual Senior Citizens day on Sunday, August 16th. It's a time for us to be blessed by the wisdom and grace of many or our seniors who built upon the foundation of Christian charity to help make Springfield what it is today. As with all our annual days in 2020, our celebration will be different, but we pray that our senior saints will be blessed beyond measure.
REGISTER TO VOTE
We're about 90 days away from the election. I wanted to give a quick reminder about the importance of voting. As we approach election day, make sure you, and all who are voting age in your home, are registered. Also make sure the board of elections has your current address. And then when the time comes, exercise your right to vote.
As earlier stated, God has promised to go before us, be with us and never leave us. So, KEEP THE FAITH, STAY SAFE & WASH YOUR HANDS!
Pastor