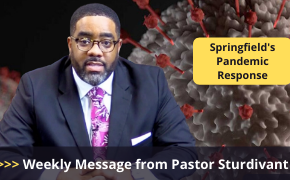 Sunday School Book Giveaway, Voting information and COVID-19 testing.
Hi Springfield,
I trust that you all are well on this thankful Thursday. Allow me to share a word with you about the importance and discipline of prayer. During this season, let's not forget "for though we live in the flesh, we do not wage war according to the flesh. The weapons of our warfare are not carnal, but mighty through God to the pulling down of strongholds." (2 Cor. 10:3 & 4) God has blessed us with the ability to wage war in the heavenlies through the power of prayer. So, whatever you do, don't stop praying. It doesn't matter how long you've prayed or how much you've prayed – keep on praying. Prayer is a weapon the believer can't do without. Use your weapon. Keep going to God in prayer.
SUNDAY SCHOOL BOOK GIVEAWAY
This coming Saturday at 10am we will be giving away Sunday school books for the quarter. The giveaway will be drive-thru to reduce person-to-person contact. Remember supplies are limited. Thanks to all who will help to make this effort safe and successful.
INSIDE THOSE BOOKS
As you open those Sunday school books you will notice some special information inside. Each book will contain a voter registration form and an absentee ballot request form. These forms are provided in case you or someone in your home needs to register to vote or in case you'd prefer to vote via absentee ballot during these times. Regardless of the method you use to vote, or who you vote for – PLEASE EXERCISE YOUR RIGHT TO VOTE!
We must do all we can to empower and inform the electorate. To that end, we are starting a non-partisan ministry aimed at providing accurate information to our members about voting. You'll hear more about this effort in the coming days.
FREE COVID-19 TESTING
On Monday, August 31st from 11am to 3pm our church will host a second round of free COVID-19 testing. This is in partnership with Advance Community Health. Supplies are limited. For more information or to register for the event, go to the Advance Community Health website or call (919) 833-3111.
Know that I am praying for you and your families in this season. Do all you can to KEEP THE FAITH, STAY SAFE & WASH YOUR HANDS.
Pastor