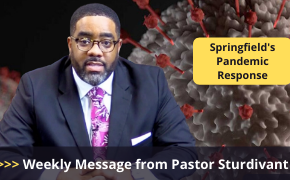 Free COVID-19 testing, voter information forum, Women's Ministry Book Club news and more!
Hi Springfield,
I hope you all are well and enjoying this Thursday. Listen to these words from Micah 6:8, "He has shown you, O mortal, what is good. And what does the LORD require of you? To act justly, and to love mercy and to walk humbly with your God." In these times of unrest and turmoil, we already have our marching orders, because as scripture says He has shown us what to do. The Lord wants us to act justly, love mercy and walk humbly. Let's commit to follow in God's word and way as a church family. As we do, God will get all the glory and all the praise.
FREE COVID-19 TESTING
Don't forget this coming Monday, August 31st from 11am to 3pm we'll be hosting free COVID-19 testing at the church. This is in partnership with Advance Community Health. Those interested please pre-register for the event by going to the Advance Community Health website or calling (919) 833-3111.
VOTER INFORMATION FORUM
I'm proud to announce on September 8th during our regular Bible study hour we will be hosting a voter information forum with a representative from the Wake County Board of Elections. The forum will allow us to learn ways we can still exercise our right to vote during this COVID-19 season. If you have any questions concerning voting that you want answered during the forum, please submit those questions to
BOOK CLUB
Calling all women! On Saturday, September 5th at 11am our Women's Ministry is hosting a ZOOM discussion on the first half of the book Sensible Shoes by Sharon Garlough Brown. The book is a spiritual journey of discovery for women. The book can be purchased online at christianbook.com; barnesandnoble.com or amazon.com. For more information or to receive the ZOOM link for the discussion please email
UPCOMING EVENTS
As we close August, I can hardly believe we're about to enter September. There are several wonderful things we're planning for September including: another Coronavirus care package giveaway, our annual church outing, and our annual Education Day. Also, a new sermon series and a new Bible study teaching are on the way.
We look forward to continuing to serve our community and demonstrate our unity in the coming weeks. Tough times won't break us. Coronavirus won't shake us. God has it all under control. So, we will keep serving and stay united because that's what we do at Springfield Baptist Church. As we do, continue to KEEP THE FAITH, STAY SAFE & WASH YOUR HANDS!
Pastor