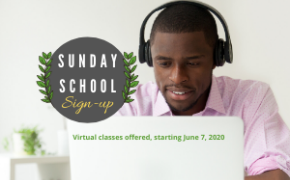 Sunday School Class Sign-up - virtual classes being offered, starting June 7th. Sign-up, so you do not miss out.
Sunday School Sign-Up
Sunday School is now hosted via Zoom! We hope you'll join us and engage in lively class discussion! In the process of gathering together on Sunday mornings, the Sunday School will offer six classes over two time periods:
Class Schedule
9:00 am - 9:45 am
Sunday School Classes for Young Adults, Adults, Seniors and Economic Empowerment


11:30 am - 12:15 pm
Sunday School for Children and Youth
Registration Information:
Registration is open Monday - Friday. Registrations received during this time period will receive confirmation and credentials on Saturday. Registrations received during the weekend will be responded to with the next Monday - Friday registration group on the following Saturday.
You will receive a confirmation from our Sunday School Superintendent, Brother Orlando Dobbin. In this email, you will be provided with the meeting credentials (Meeting ID and Password) to join your Sunday School class via Zoom, along with the confirmed meeting time for each class and any further instructions.
NOTE: The Sunday School Class for Seniors is nearing capacity. You are welcome to register, however, once we meet online capacity, we will no longer give out the online credentials.