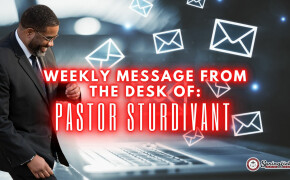 Vacation Bible School, Transportation Ministry, Young Adult Sunday, Graduation Sunday, Coming soon & Quick Reminders
Hi Springfield,
2 Timothy 2:15 "Study to shew thyself approved unto God, a workman that needeth not to be ashamed, rightly dividing the word of truth." These are Paul's words to his protégé Timothy. Paul wants Timothy to be prepared and able to share and defend what he believes about Jesus Christ. This is not just a call to preachers, teachers, or leaders, this is a call to all God's people to study His word so that we may be able to discern between what is false about God and what is true about God. We are all workers in God's vineyard. Let's study the word of God.
VACATION BIBLE SCHOOL
VBS date back to the late 1800s when a school teacher in Illinois wanted to teach her students about the Bible during the summer. That wonderful tradition is embodied in what we're doing this week. It has been amazing to see those of you who have attended in-person and those who are attending virtually come together to study the Word of God together. I thank God for all He has done to make VBS possible. And it's not over. Join us tonight and tomorrow as we conclude this wonderful week in God's word. The dinner hour will begin nightly at 5pm with VBS devotion at 6:15pm and classes starting at 7pm.
TRANSPORTATION MINISTRY
Need a ride to and/or from church? I'm happy to announce our transportation ministry is getting back on the road beginning Sunday, June 26th. To request a ride call (919) 772-8078 ext. 310 and leave your name, number, and pick-up address. All ride requests must be made by Saturday, June 25th by 9pm. All riders must be masked. Please use your JUICY FRUIT as we provide this service.
YOUNG ADULT SUNDAY
Young Adult Sunday is right around the corner. We're looking forward to fun, faith and fellowship. Join our Young Adult Ministry Friday, July 1st at 7pm for a fun-filled game night. Then on Sunday on July 3rd at 10am. Rev. Dr. James Wilkes, pastor of the Elon First Baptist Church will be our special guest preacher. You don't want to miss it.
GRADUATION SUNDAY
Graduation Sunday will be celebrated on Sunday, July 10th at 10am. We are looking forward to recognizing all of our 2022 graduates both high school and college. I want to thank God for our Scholarship Ministry and for all their work in helping to recognize our graduates.
COMING SOON & QUICK REMINDERS
Here are some quick reminders to make you aware of.
Don't forget to log onto our website for Sunday school material. Click on your class for the material is listed there.
Youth Day is July 17th. Let's prepare our hearts and our minds to encourage our young people on this day. More details to come.
Don't forget the MPC walking track is open. For more information about walking and/or to register to walk send an email to .
Springfield is still a COVID-19 testing site through our partnership with Mako Medical. PCR testing is Monday through Friday 9am to 4pm.
Thanks for all your support as we continue to strive to do God's will and be who He has called us to be. As usual, KEEP THE FAITH, STAY SAFE, WEAR, WASH, & WAIT.