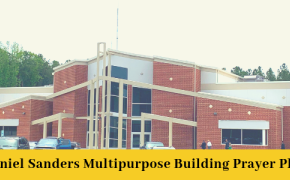 Daniel Sanders Multipurpose Building Prayer Plan

Springfield,
Let's commit to pray for the following:
The completion of the building ... Psalm 127:1 (NIV)
"Unless the Lord builds the house, the builders labor in vain."
The community that needs the building ...
Matthew 11:28-29 (NIV)
"Come to me, all you who are weary and burdened, and I will give you rest. Take my yoke upon you and learn from me, for I am gentle and humble in heart, and you will find rest for your souls."
The unity of spirit necessary to support the building ... 1 Corinthians 1:10 (NIV)
"I appeal to you, brothers and sisters, in the name of our Lord Jesus Christ, that all of you agree with one another in what you say and that there be no divisions among you, but that you be perfectly united in mind and thought."
The continued financial resources for the building ... 2 Corinthians 9:8 (NIV)
"And God is able to bless you abundantly, so that in all things at all times, having all that you need, you will abound in every good work."
The glory of God be the result of the building ...
Romans 11:36 (ESV)
"For from him and through him and to him are all things. To him be glory forever. Amen."
Pastor Sturdivant urges all who are concerned to meet him the next six consecutive Tuesdays at 6:30pm before Bible Study. This starts June 11, 2019. We will pray to God corporately to prepare us to walk worthy of the blessing of the completed Daniel Sanders Multipurpose Building. To God be the glory!