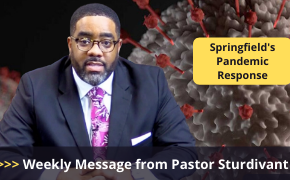 coat drive, municipal elections
Hi Springfield,
The book of Acts details the story of the growth of the church. It follows personalities like Peter, Paul, and Barnabas, as they go about expanding God's kingdom. There's something interesting about Barnabas I'd like to share with you today. Did you know that Barnabas wasn't even his real name? His real name was Joseph. He's called Barnabas in scripture because that was his nickname. Barnabas means son of encouragement. He got that nickname by being someone who was always willing to encourage, help, strengthen, and support other people. What a powerful testimony! Who in your life has been a Barnabas to you? Who in your life are you being Barnabas to? Let's commit to encourage one another in the Lord.
COAT DRIVE
One way to encourage, help, strengthen, and support others is through our coat drive. Our Education Ministry is sponsoring a coat drive for our adopted school East Garner Elementary School. Please donate new winter coats with tags in sizes 6 to 12. The coat drive ends on Saturday, October 2nd. If you plan to donate a coat on Saturday, please bring it to the Fellowship Hall before noon. Let's be a blessing to those in need.
2021 MUNICPAL ELECTIONS
Although this is not a Presidential election year, several neighboring communities will have municipal elections this November. Those jurisdictions include Angier, Apex, Durham, Fuquay-Varina, Garner, Holly Springs, Knightdale, Morrisville, Rolesville, Wake Forest, Wendell, & Zebulon. Please do your part to be an informed voter and learn about the issues on the ballot.
Tonight at 6pm, residents of Garner will have the opportunity to learn more about the bond referendum that will be on this year's ballot. Here's a link that was provided for those interested in attending this briefing virtually.
Microsoft Teams meeting
Join on your computer or mobile app
Click here to join the meeting
Or call in (audio only)
+1 336-265-0352,,495110446# United States, Greensboro
Phone Conference ID: 495 110 446#
There are some exciting things that we're planning for you in the coming weeks and months. I look forward to sharing those things with you soon. In the meantime, KEEP THE FAITH, STAY SAFE, WEAR, WASH & WAIT.