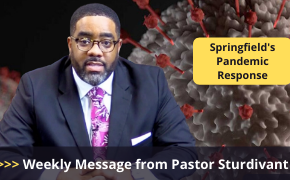 roadside cleanup, fafsa workshop, wings ministry, caregiver community event, 2021, municipal elections
Hi Springfield,
"Do everything in love." These are the words from 1 Corinthians 16:14. This is Paul's admonition to the Corinthian church. Just three chapters earlier, Paul shared with them the importance of love. As Paul concludes this letter to them, he reminds them that everything they do, should be done in love. Every word, action, deed, and thought should be motivated by love. Those are powerful and wise words from the Apostle Paul to the members of the Corinthian church. Springfield let's strive to live by those words as well. Here are just a few of the wonderful things happening at our church and in our community.
ROADSIDE CLEANUP
Roadside cleanup is scheduled for next Saturday, October 16th at 9am. Our roadside cleanup was cancelled in September due to the church outing. So, we'll need extra help and workers for the 16th. Please make plans to attend and help keep our adopted stretch of Auburn-Knightdale Road clean and pristine.
FAFSA WORKSHOP
Calling all high school juniors and seniors!!! Our Scholarship Ministry is sponsoring a FAFSA workshop on Saturday, October 23rd at 10am. Parent this workshop will provide helpful tips on how to fill out the free application for federal student aid (FAFSA). If you plan to attend this Zoom workshop, please email . Remember the earlier you apply, the more aid you can potentially receive.
WINGS MINISTRY
Our WINGS Ministry needs volunteers. The WINGS Ministry is part of the support team that will help provide volunteers to serve at the welcome desk in the Daniel Sanders Multi-Purpose Center. If you can volunteer to serve at the welcome desk, especially during evening hours, please send an email to
CAREGIVER COMMUNITY EVENT
On October 26th there will be a free all-day virtual Duke Caregiver Community Event. Attendees will hear information on dementia care, understanding advanced directives, and hospitalization and the role of a caregiver. Information at the event will help connect people with services and support systems so that caregivers can provide the best care possible to their loved ones. Registration is free and required. If you're interested in attending this virtual event log on to www.dukehealth.org/duke-caregiver-community-event.
2021 MUNICIPAL ELECTIONS
Tuesday, November 2nd, elections will be held in several local municipalities including Angier, Apex, Durham, Fuquay-Varina, Garner, Holly Springs, Knightdale, Morrisville, Rolesville, Wake Forest, Wendell and Zebulon. To see the candidates list, find a polling place, or see a sample ballot please go to wakegov.com website and type in board of elections in the search. Remember, good Christians are good citizens and good citizens vote.
That's all for now. As usual KEEP THE FAITH, STAY SAFE, WEAR, WASH & WAIT.
Pastor