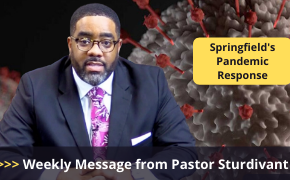 vaccine on the green, diversity marketplace, men's fellowship, class of 2021, office assistant position
Hi Springfield,
Proverbs 4:11-12 says "I instruct you in the way of wisdom and lead you along straight paths. When you walk, your steps will not be hampered; when you run, you will not stumble." (NIV) My prayer for today is that we be led in the way of wisdom. The text shares a benefit of walking with wisdom. The tone of these verses suggests that wisdom will help you gain momentum. With wisdom you can start off walking and end up running. Wisdom helps you to get where God is taking you faster than you can get there on your own. Walk with wisdom today and every day.
VACCINE ON THE GREEN
Do you know someone who still needs to be vaccinated? Tell them about the "Vaccine on the Green" event scheduled for Friday, May 21 – Sunday, May 23rd at Dorothea Dix Park, Adams Building, 101 Blair Dr., Raleigh. The NC Department of Health and Human Services is sponsoring the event which will allow for anyone 12 and up to receive the Pfizer vaccine. For more information on times go to ncdhhs.gov.
DIVERSITY MARKETPLACE
"Young, Fly & Branded" is coming to the Diversity Marketplace. Saturday from 6-8pm you'll have a chance to support young entrepreneurs and shop their products. All purchases will be completely between the shopper and the vendor. Make plans to attend this Zoom event.
Participant Login:
Join Zoom Meeting
https://zoom.us/j/91484792644?pwd=b0FIWWo0MEM1bUw5T29FeHRmcldCZz09
Meeting ID: 914 8479 2644
Password: 617366
Dial by your location
+1 646 558 8656 US (New York)
Meeting ID: 914 8479 2644
Password: 617366
Find your local number: https://zoom.us/u/aqw2a4j3N
MEN'S FELLOWSHIP
Our Men's Ministry is on the move and they want you to move with them. The Men's Ministry is sponsoring a men's health and wellness challenge. To participate in the challenge please contact Deacon Robert Perry or Brother Dennis Dawson or send an email to And don't forget about Men's Fellowship each Monday night on Zoom. Stay tuned for more details about the Men's weekend coming June 5-6.
CLASS OF 2021
It's cap and gown season! Congratulations to all our 2021 graduates. If you are graduating from high school or college, we need to hear from you. The scholarship ministry needs your name and the name of the school you are graduating from by Sunday, June 6th so that we can make plans to honor your accomplishments. Please send the information to .
OFFICE ASSISTANT POSITION
Springfield Baptist Church is hiring. We are looking for a qualified applicant to fill our open office assistant position. Check our website for the application and more details about the position. This is a position we were trying to fill last year when the pandemic hit. If you applied last year and are still interested, we need you to reapply with current information.
That's all for now. As usual KEEP THE FAITH, STAY SAFE, WEAR, WASH & WAIT.
Pastor