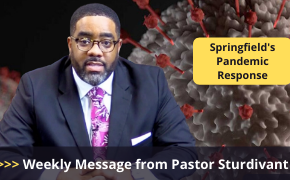 Men's Weekend, Class of 2021, Corporate Fast, Father's Day, Virtual VBS and more
Hi Springfield,
I hope you're well on this terrific Thursday. There's an interesting and tough word that the Hebrew writer gives in Hebrews 6:1. There the Bible says, "Therefore let us leave the elementary teachings about Christ and go onto maturity…" (BSB) The writer is calling for the church community to move on to maturity. Simply put, the writer tells the church to grow up. Christian maturity is necessary in this season. It is necessary for our personal character development. It is necessary in how we treat one another. It will also be necessary as we regather as a church community. Let's commit to grow together. As we do, God will be pleased and praised.
MEN'S WEEKEND
Calling all Men! This weekend is your time to be empowered and encouraged. This year our Men's weekend will kick off with a fishing tournament on Saturday, June 5th. If you want to participate in the tournament, please email for instructions and details. Then on Sunday, June 6th Rev. Dr. Tony Barr, Executive Secretary of the General Baptist State Convention of NC, will be our special guest speaker. We're excited about how God is creating Kingdom Men here at the Springfield Baptist Church.
CLASS OF 2021
Class of 2021 Graduates don't forget Sunday is the deadline for you to submit your name and the name of your school so you can be part of our graduate recognition in July. Springfield Baptist wants to honor and celebrate your accomplishments, but we need your help. Please send the information to .
CORPORATE FAST
On this past Tuesday, I announced in Bible Study I will be calling a corporate fast. This corporate fast is Phase I of our re-opening plan. This Daniel Fast will happen Monday, June 14th through Friday, June 18th. I believe God is going to empower us to do His work and will as we collectively sacrifice to hear from Him. I will discuss details concerning the fast this coming Tuesday night at Bible study and hope that you will tune in.
FATHER'S DAY
Our Mother's Day picture collage was such a beautiful and moving tribute that we want to give our fathers the same opportunity as we prepare for Father's Day on Sunday, June 20th. To help us celebrate fathers please send a picture of you and your father or you and your children to . All pictures must be submitted by June 15th.
VIRTUAL VBS
Virtual VBS is coming so mark your calendars now for Thursday, June 24th through Saturday, June 26th. This year's Virtual VBS will be much like last year's. Our Thursday and Friday classes will be on Zoom and on Saturday we'll have a parking lot picnic to culminate our time together. We're looking forward to a great time of faith and fellowship.
OFFICE ASSISTANT POSITION
Springfield Baptist Church is hiring. We are looking for a qualified applicant to fill our open office assistant position. The application deadline has been extended. Check our website for the application and more details about the position. If you applied last year and are still interested, we need you to reapply with current information.
That's all for now. As usual, KEEP THE FAITH, STAY SAFE, WEAR, WASH & WAIT.
Pastor