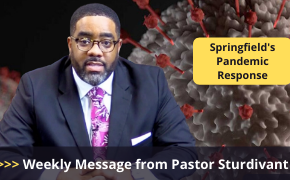 Reopening Phase IV, Daniel Sanders Multi-Purpose Center Dedication & Tours, Revival and more!
Hi Springfield,
The Lord is high above the heavens and His glory above the nations. Check out what God is doing at our church.
REOPENING PHASE IV/OUTDOOR WORSHIP/DANIEL SANDERS MULTI-PURPOSE CENTER DEDICATION & TOURS
On Sunday, July 25th we will have another outdoor worship service at 10am. We wanted to have the service outdoors to be able to accommodate as many people as possible as we dedicate the Daniel Sanders Multi-Purpose Center. The dedication will take place after the 10am service. Sunday School will be canceled on this Sunday. The parking lot will open at 9am. Make plans now to attend this historic event.
I know you can't wait to see the building and we can't wait to show it to you. You still have time to schedule a tour of the building by calling the church office. BUILDING TOURS WILL BEGIN MONDAY, JULY 26TH. Tours of the building are available Monday, July 26th through Friday, July 30th from 9am to 11am and from 2pm to 4pm. Saturday tours will be available Saturday, July 31st from 9am to 1pm. Each tour will last about 30 minutes. Each person on the tour must wear a mask, submit to temperature check, and complete a pre-screen questionnaire. We're also preparing a video tour that will be posted on our website. To God be the glory for the great things He has done.
ANNUAL REVIVAL
Also don't forget about our Annual Revival scheduled for Tuesday, July 27th through Thursday, July 29th at 7pm. Our revival will be both in-person and virtual. Everyone attending in person will be asked to wear a mask, submit to temperature check, and fill out a pre-screen questionnaire. We are excited to host these powerful guest speakers.
Tuesday, July 27

th

– Rev. Dr. LaMont J. Johnson Pastor of West Durham Baptist Church.

Wednesday, July 28

th

– Rev. Dr. Joe L. Stevenson Pastor of Macedonia New Life Church.

Thursday, July 29

th

– Rev. Dr. Jeffrey B. Robinson Pastor of Juniper Level Missionary Baptist Church.
WELCOME HOME – LET'S HAVE CHURCH!
On Sunday August 1st will be our first in-person worship at 10am. There are many details to share about our coming back together including our plan for Sunday School and our plan for overflow worship spaces.
We'll share more exciting news about the great things God is doing at Springfield Baptist Church soon. Thanks for your patience and your prayers.
Until then, KEEP THE FAITH, STAY SAFE, WEAR, WASH & WAIT.
Pastor