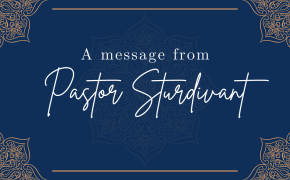 virtual leadership retreat, family & friends say, griefshare cycle, contribution statements, virtual only
Hi Springfield,
Considering the weather forecast, I thought these words from Psalm 148 were insightful and appropriate for today's email blast. In verses 7 & 8 the Bible says … "Praise the Lord from the earth … fire and hail, snow and mist, stormy wind fulfilling his word!" God is in control of all things, even the weather. The weather fulfills God's word. What a powerful statement from the psalmist. Whatever the weather, God's got it all under control. I pray that you are safe and warm and will do your best to remain that way.
VIRTUAL LEADERSHIP RETERAT
Our virtual leadership retreat is Saturday, January 22nd at 9am. All ministry leaders are asked to attend. If you are not a current ministry leader but are interested in leadership, we'd love to see you there as well. There will be a time of training and development led by Harrison Sturdivant of the Center for Creative Leadership and inspiration and impartation by Rev. Dr. Larry E. Covington of the Ebenezer Church. In order to register for this event please click on this link https://us06web.zoom.us/webinar/register/WN_usXWpqmbQjys_9Z_MRwrdQ.
FAMILY & FRIENDS DAY
On January 30th we will celebrate Family & Friends Day with a virtual service. I'm excited about this service and the special guest speaker. He qualifies as both. My big brother, Rev. Carlton J. Sturdivant, pastor of the Wentworth Baptist Church, will be our special guest speaker. Make plans to tune in.
GRIEFSHARE CYCLE
Our latest GriefShare cycle is underway. GriefShare is a ministry designed to help you walk through your grief while strengthening your faith in God. The sessions happen virtually on Thursdays from 6pm to 7pm. You can register for the sessions by visiting www.griefshare.org or you can call the church to register at (919) 772-8078.
CONTRIBUTION STATEMENTS
Springfield we are preparing your 2021 contribution statements. This year we'll be doing things a bit differently. This year you will have an option to receive your statement via email or have it mailed to your residential address. To choose to how you'd like to receive your statement you can click on this link https://www.springfieldbaptistchurch.com/news/news/annual-contribution-statement-preference-form/ or you can call (919) 772-8078 ext. 320 and leave your name, address and phone number.
VIRTUAL ONLY
For at least the rest of the month of January, all our services and planned events will be virtual as we continue our pause due to the latest COVID outbreak. Please continue to pray with us that God's wisdom and guidance will lead us as we move closer toward the day when we will be able to regather.
What do we do in the meantime? KEEP THE FAITH, STAY SAFE, WEAR, WASH, & WAIT.
Pastor