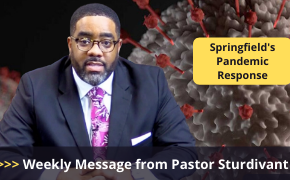 in-person sunday school & worship, roadside cleanup, women's ministry virtual bookclub, business directory, look ahead
Hi Springfield,
"But He knows the way that I take; when He has tried me, I shall come out as gold." Job 23:10 (ESV) Make no doubt about it, these are trying times. These are times that test our faith, work our patience, and prove our love. Beloved, if you have faith, patience, and love for God even in trying times, it solidifies what you believe and in whom you believe. Job knows something about trying times and he testifies about it in Job 23:10. The revelation of the text is that God is the one who makes, measures, and manufactures the test. Since God controls the test, He is the only one who can grade you as you take it! And according to the verse, after you've been tried, you'll come out as pure gold! God wants you to pass the test with flying colors. So, be encouraged because even in trying times, God is up to something!!
Here are some of the great things happening at the Springfield Baptist Church.
IN-PERSON SUNDAY SCHOOL & WORSHIP
Just a few quick reminders as we continue to come together for in-person Sunday School and worship:
Pack your patience. We are growing in this process together.
Pre-screenings take place in the Fellowship Hall, Sanctuary and in the DSMPC prior to Sunday school at 8:30am and worship service at 10am.
The capacity numbers will be reduced campus-wide this coming Sunday to ensure you are properly socially distanced.
If you are sick, have a high fever or are suffering from flu-like symptoms, please enjoy worship from the comfort of your own home.
ROADSIDE CLEANUP
Roadside cleanup is cancelled for this coming Saturday. Please stay tuned for more information about our next scheduled roadside cleanup.
WOMEN'S MINISTRY VIRTUAL BOOKCLUB
Readers are leaders and leaders are readers! The ladies of Springfield are preparing for their next virtual book club. The book is When Women Pray by T.D. Jakes. The virtual book club is scheduled for Saturday, August 21st at 11am. Zoom details below:
Participant Login:
https://zoom.us/j/95776036011?pwd=R0I4Z0pVT09TcnNINk9yZWVOUW1WUT09

Meeting ID: 957 7603 6011
Password: 016601
Dial by your location
+1 646 558 8656 US (New York)
Meeting ID: 957 7603 6011
Password: 016601
Find your local number: https://zoom.us/u/adjM454NCj
BUSINESS DIRECTORY
Springfield, we have a new look business directory. It's a way for you to find and support small businesses. If you're looking for contractors, caterers, childcare, or counseling – you can find it in our directory. Click here to check it out. Thanks to the EEM for updating the directory.
LOOK AHEAD
Here's a look ahead to some things that are on the calendar for September.
Saturday, September 18th – Church Outing at 11am at Lake Benson Park in Garner.
Sunday, September 19th – Education Day
As usual KEEP THE FAITH, STAY SAFE, WEAR, WASH & WAIT!
Pastor