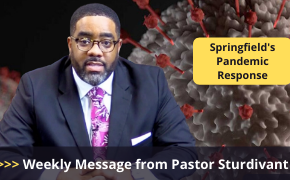 Women's weekend, Mother's Day Pictures, National Day of Prayer, Congregation Survey, GriefShare
Hi Springfield,
Psalm 27 has been on my heart all morning. There David says in verses 1-4:
"The Lord is my light and my salvation; whom shall I fear? The LORD is the strength of my life; of whom shall I be afraid? When the wicked, even mine enemies and my foes, came upon me to eat up my flesh, they stumbled and fell. Though an host should encamp against me, my heart shall not fear: though war should rise against me, in this will I be confident. One thing have I desired of the LORD, that will I seek after; that I may dwell in the house of the LORD all the days of my life, to behold the beauty of the LORD, and to enquire in his temple."
Psalm 27 is so powerful. I pray those verses bless and encourage you today as they have encouraged me.
The Lord is doing some great things at our church. Let me share a few of them with you.
WOMEN'S WEEKEND
Our Women's Weekend is right around the corner. Some exciting events are planned to help you transition through quarantine. Please join our Women's Ministry on Saturday, May 1st, at 11am for a virtual workshop. Reverend Kim Hargrave will be among the guest speakers. On Sunday, May 2nd Rev. Dr. LaTonya Agard, Pastor and Founder of Transformation Fellowship Christian Church will be our special guest preacher. Make plans to attend to strengthen your mind, body, and soul. Stay tuned for more details.
MOTHER'S DAY PICTURES
Help us celebrate Mother's Day. Ladies send a picture of you and your mother or you and your children to . We're preparing a special Mother's Day collage to honor all Mother's on Sunday, May 9th. The deadline to submit your pictures is Wednesday, May 5th. Make sure to include the names of those in the photos in your email.
NATIONAL DAY OF PRAYER
The National Day of Prayer is Thursday, May 6th. As you know, Springfield has annually supported this day. This year we will support the National Day of Prayer in a special Zoom session on that Thursday at 7pm. Dr. Vivian Short will lead the session. Zoom link information will follow.
CONGREGATIONAL SURVEY
We are preparing another congregational survey about our re-opening. This survey is designed to get your input about our reopening and to measure how your thoughts about reopening have changed since our first survey in June 2020. As of right now, I don't have a specific reopening date, but your input, support and prayers will help in that effort. The survey will be available on our website soon. We will also make the survey available to those who may not have internet access.
GRIEFSHARE MINISTRY
Over the past year, I'm sure you know someone who has lost a loved one – whether due to COVID-19 or not. I want to take time to remind our church of the blessed opportunity to be part of our Griefshare Ministry. The ministry provides encouragement for those who are mourning the loss of a loved one. Virtual grief support sessions are held each Thursday at 6pm. To register visit www.griefshare.org.
That's all for now. Blessings on all that you are doing. Remember to KEEP THE FAITH, STAY SAFE, WEAR, WASH & WAIT.
Pastor