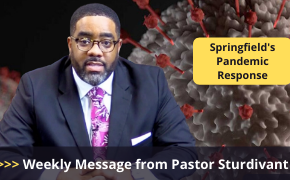 Roadside Cleanup, Women's Ministry Book Club, Children's Sunday, Griefshare Ministry
Hi Springfield,
One of the shortest Psalms in the Bible is also one of the most powerful. Psalm 133 says, "Behold, how good and pleasant it is for brethren to dwell together in unity." (KJV) The sight of unity is a beautiful sight in the eyes of the Lord. Unity and togetherness are associated but often confused. We can be unified while not being together. Together deals with where I am – that's location. Unity deals with my support of the whole – that's cooperation. Thank God for the cooperation, support, and love from the members of the Springfield Baptist Church in this season. I believe the sight of our unity pleases God.
ROADSIDE CLEANUP
Don't forget about the roadside cleanup this Saturday, April 17th at 9am. We want to make sure that our stretch of the road stays clean. Please come out and support this effort and if you can't make it, recruit your replacement.
WOMEN'S MINISTRY BOOK CLUB
The Women's Ministry's virtual book club meeting happens this Saturday, April 17th at 11am. Join the women for the finale from the Sensible Shoes series as the group discusses An Extra Mile: A Story of Embracing God's Call by Sharon Brown. The author will be on hand for the discussion. Here's the Zoom information:
Participant Login:
Join Zoom Meeting
https://zoom.us/j/93155487564?pwd=aUtFeEJXdWNUSDVrWTcvZTRscWt0QT09

Meeting ID: 931 5548 7564
Password: 483485
Dial by your location
+1 646 558 8656 US (New York)
Meeting ID: 931 5548 7564
Password: 483485
Find your local number: https://zoom.us/u/aAx6xDYcz
CHILDREN'S SUNDAY
Children's Sunday is this coming Sunday at 10am. We have some exciting things planned for our Children's Day worship service. Please make plans to tune in for a Word from the Lord specifically for our children. Thank God for our dedicated and devoted Children's Ministry workers who constantly serve and share to help encourage our children in their walk with Jesus.
GRIEFSHARE MINISTRY
Over the past year, I'm sure you know someone who has lost a loved one – whether due to COVID-19 or not. I want to take time to remind our church of the blessed opportunity to be part of our Griefshare Ministry. The ministry provides encouragement for those who are mourning the loss of a loved one. Virtual grief support sessions are held each Thursday at 6pm. To register visit www.griefshare.org.
Thank God for what He continues to do at the Springfield Baptist Church for His glory. That's all for now. As usual, KEEP THE FAITH, STAY SAFE, WEAR, WASH & WAIT.
Pastor