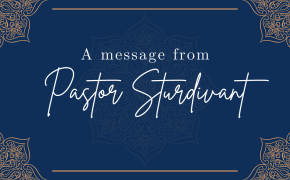 National Day of Prayer, Springfield Shirts and Jackets, Activities Coordinator and Early Voting
Hi Springfield,
Daniel 9:18, "We do not make requests of you because we are righteous, but because of your great mercy." This is part of a prayer that Daniel utters in Daniel 9. Daniel approaches God because Daniel is moved by the desolation of Jerusalem. As Daniel prays, he prays not out of a sense of entitlement, but out of a sense of humility. This is a prayer of repentance offered on behalf the nation. Daniel ends the prayer by saying "Lord, listen! Lord, forgive! Lord, hear and act!" Let us adopt this attitude as we turn our attention to praying for our nation today.
NATIONAL DAY OF PRAYER
Tonight at 7pm our Prayer Ministry will lead us in observing the National Day of Prayer. Tonight's service will be in-person and virtual. You can join tonight's prayer event virtually by clicking on the ad on our website. We will come together to pray over several scriptures. If there were ever a time for us to come together to pray it's now. Make plans to join us then.
SPRINGFIELD SHIRTS & JACKETS
Springfield shirts and jackets are available for purchase only on Sundays after service in the bookstore. The Springfield polo shirts for men and women in white, black, or blue are $20. Springfield jackets in gray are $45. All sales are final. Purchases can be made by credit/debit card, tap enabled cards and Apple pay. No cash or checks will be accepted at this time. Represent Springfield everywhere you go!
ACTIVITIES COORDINATOR
Springfield Baptist is hiring. We're looking for an Activities Coordinator. If you're interested, please submit your resume and an application to or mail it to the church office 4309 Auburn Knightdale Road, Raleigh, NC 27610.
EARLY VOTING
It's that time again. Time to make your vote count and your voice heard. Early voting is already underway from now until Saturday, May 14th in Wake County? For more information about how to register to vote or on early voting locations please log onto the wakegov.com. You've heard pastor say it before, good Christians are good citizens and good citizens' vote!
As usual, KEEP THE FAITH, STAY SAFE, WEAR, WASH & WAIT!
Pastor