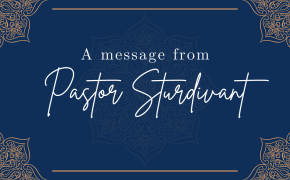 Roadside Cleanup, Leadership Meeting, Springfield Chronicles-Graduation Edition, Men's Weekend
Hi Springfield,
"It's all good." It's a phrase you've no doubt heard. Maybe you have even used that phrase yourself. It can mean a multitude of things. Today I want to apply it in a different way to God's word. God's word is all good. You don't have to believe me – I got Bible. 2 Timothy 3:16, "All scripture is breathed out by God and profitable for teaching, for reproof, for correction, and for training in righteousness." (ESV) The entire Bible, when rightly applied and interpreted, is good for us to grow and glean from. Thank God that his Word is like His blood – it will never lose its power!!!
Here are some exciting things happening at Springfield Baptist Church.
ROADSIDE CLEANUP
This Saturday is another opportunity to keep our stretch of Auburn Knightdale Road clean and pristine and we really need your help! Cleanup starts at 9am. Please come out and help our cleaning crew tidy up our church's adopted portion of the road.
LEADERSHIP MEETING
On Tuesday, May 24th at 7pm Bible study will be canceled. In its place we will have a special mandatory "housekeeping" meeting for all our ministry leaders. If you are a ministry leader, please make sure your ministry is represented at this very important session. This meeting is in-person and on zoom. Please click on the graphic on our website to join via Zoom.
SPRINGFIELD CHRONICLES – GRADUATE EDITION
It's graduation season. Congratulations to the class of 2022, but it won't be a celebration without you. If you are in the class of 2022, please reach out to our Scholarship Ministry at and the SBC Chronicles at as soon as possible. Submit your graduation information to the scholarship ministry by May 29th. General articles for the newsletter are due by Sunday, June 5th.
MEN'S WEEKEND – JUNE 3 THRU JUNE 5
We're counting down to Men's weekend Friday, June 3rd through Sunday, June 5th. There are several exciting events planned for this weekend culminating in Men's Day. Our special guest preacher that Sunday will be Rev. Scottie Torain, pastor of the Miles Chapel Missionary Baptist Church in Mebane, NC. You do not want to miss this power-packed event. More details to come.
That's all for now. As usual, KEEP THE FAITH, STAY SAFE, WEAR, WASH & WAIT.