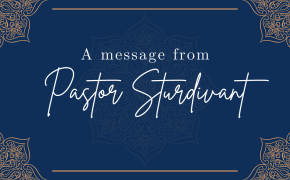 Early Voting, Springfield Shirts and Jackets, Roadside Cleanup, Activities Coordinator
Hi Springfield,
O Lord my God! When I in awesome wonder
Consider all the works Thy hand hath made;
I see the stars, I hear the mighty thunder,
Thy pow'r throughout the universe displayed!
Then sings my soul, my Savior God, to Thee
How great Thou art! How great Thou art!
Then sings my soul, my Savior God, to Thee
How great Thou art! How great Thou art …
I hope you agree with me and the words of this old hymn on this thankful Thursday that we serve a great God!
EARLY VOTING
Early voting ends this coming Saturday, May 14th. The primary elections are Tuesday, May 17th. Make sure your voice is heard! For more information about early voting or primary locations please log onto the wakegov.com. You've heard pastor say it before, good Christians are good citizens and good citizens' vote!
SPRINGFIELD SHIRTS & JACKETS
Springfield shirts and jackets are available for purchase only on Sundays after service in the bookstore. The Springfield polo shirts for men and women in white, black, or blue are $20. Springfield jackets in gray are $45. All sales are final. Purchases can be made by credit/debit card, tap enabled cards and Apple pay. No cash or checks will be accepted at this time. Represent Springfield everywhere you go!
ROADSIDE CLEANUP
Next Saturday, May 21st is another opportunity to keep our stretch of Auburn Knightdale Road clean and pristine and we really need your help! Cleanup starts at 9am. Please come out and help our cleaning crew tidy up our church's adopted portion of the road.
LEADERSHIP MEETING
On Tuesday, May 24th at 7pm Bible study will be canceled. In its place we will have a special mandatory "housekeeping" meeting for all our ministry leaders. If you are a ministry leader, please make sure your ministry is represented at this very important session.
ACTIVITIES COORDINATOR
Springfield Baptist is hiring. We're looking for an Activities Coordinator. If you're interested, please submit your resume and an application to or mail it to the church office 4309 Auburn Knightdale Road, Raleigh, NC 27610.
As usual, KEEP THE FAITH, STAY SAFE, WEAR, WASH & WAIT!
Pastor